It's a year since Dr Sue Stannard took over as MCA chief medical advisor, overseeing the 'approved doctors' who assess UK seafarers on their fitness to work at sea. She talks to Sarah Robinson about her background, her achievements in her new post and what's coming up healthwise for seafarers
To start with, Dr Sue Stannard's medical career was fairly straightforward. Like many other doctors, she had come to medicine with a desire to help people, and she studied hard to gain her degree from the University of Birmingham. After qualifying as a doctor in the UK National Health Service, she continued her higher training with five years of training in acute care and anaesthetics. But then an ad in the British Medical Journal caught her eye.
'It was for a job on a cruise ship, and I thought it looked sunny', she laughs. And it was – eventually. But her new role started on a vessel in northern Europe with some very frail passengers, and she was thrown in at the deep end.
Setting off to sea
'When I went to sea, I grew up medically. I think I'd been a reasonable junior doctor before then, but now I was much more on my own, having to get on with it. The first seven nights felt like I was resuscitating people all the time, and you'd have to treat people wherever they were – the bar, the dancefloor…'
Luckily, having survived this challenging start, Dr Stannard got into the swing of things onboard ship. 'The camaraderie was very good; there was a great team. As medics, we had lots of shore leave and I saw all kinds of places around the world that you wouldn't normally go to.'
With three years at sea under her belt, the now-seasoned ship's doctor decided to return to NHS hospital work in the UK, but her eyes had been opened to some interesting possibilities for the future.
Her next move was to become a coordinating doctor and then a medical director with International SOS, the private sector organisation which facilitates access to healthcare around the world, and medical evacuation where necessary, for employees of multinational companies.
Back into shipping
After this came a return to the cruise industry, as Dr Stannard became the first UK-based medical director at Carnival UK.
Since 2014, however, she has been based in Norway with her young family, working as a maritime medical consultant, and the country remains home now that she is the Maritime & Coastguard Agency's chief medical advisor.
'Chief medical advisor has always been something of a remote job,' she notes.
'There's a lot of travelling involved and it's probably no worse starting out from Bergen than from many places in the UK.'
MCA medical work
So what exactly does the post involve? 'Perhaps the most important part is that I spend one week a month doing audit visits with our approved doctors, who are mostly GPs (family doctors) or occupational health doctors who do the seafarer medical assessments as part of their practice. What we want to see is a fair and consistent medical for seafarers wherever it takes place, so we look at how the doctors are carrying out their work.
'We'll see how well they're following the MCA Approved Doctor's Manual, for example. They walk us through what they do, and we look at their notes and review their cases. It's not about giving anyone a hard time but about doing all we can to keep seafarers safe and healthy.'
At other times, Dr Stannard is available to give advice to the approved doctors, and she is particularly keen to support those who have recently taken on the role for the first time.
Additional work includes recruiting approved doctors in areas where a need is recognised, and policy reviews such as updating what should be contained in a shipboard medical chest.
The highlight of Dr Stannard's first year in post was leading the annual MCA Maritime Health Seminar (see panel) in November 2022, the first to be held 'in person' since 2019, and Dr Stannard was delighted to see so many attendees: 'I really like meeting the doctors – it's the best part of the job.'
The first year of any new job is bound to feel like you're getting to know the ropes, she muses, but she inherited a system in good shape from her retired predecessor Dr Sally Bell, and the support from the team at the MCA has been exceptional.
Medical issues coming up for seafarers
Now that she's firmly settled in, Dr Stannard is looking ahead to the coming year, which will see some important innovations. For example, the approved doctors are in the process of adopting an online record system which will help them – and the seafarers they assess – by showing them the findings of an individual's previous medical, even if this was with a different doctor. An update to the Approved Doctor's Manual is also on the horizon, to ensure the guidance reflects the new online record system and changes to maritime regulations and medical practice.
An important date is approaching fast for UK seafarers in the fishing sector, who will for the first time need to have an ENG1 or ML5 medical certificate in order to continue to work at sea after November 2023. 'We urge people to start the process of gaining this certificate as soon as possible so we can advise you if you need to improve your fitness in order to meet the required standards,' Dr Stannard stresses.
And if there's one thing the MCA chief medical advisor would like to say to all UK seafarers, it's this: 'Help us to help you. Bring the letters and notes from any hospital appointments or dental check-ups so your approved doctor can see who treated you and contact them if they need more information to make their decision. Nobody wants to stop a seafarer working, and the better the information we have, the more likely we are to be able to make a decision quickly and ensure you can keep working at sea if it is safe to do so.'
Information on how to find your nearest UK approved doctor for a medical assessment can be found at www.gov.uk – search for MCA Approved Doctors.
For full details of the UK medical assessment process, including appeals, go to www.gov.uk and search for Seafarers medical certification guidance.
MCA Maritime Health Seminar 2022
The annual MCA Maritime Health Seminar is a professional development event where the UK's approved doctors gather to learn more about the health and safety challenges of working at sea. They also discuss case studies with their peers, talking about what decisions they would have made if they had been assessing a particular seafarer for a medical certificate.
The November 2022 seminar had the theme 'Worse things happen at sea: why medical and psychological fitness is important'. Speakers included Captain Emma Tiller of the Marine Accident Investigation Branch (MAIB), who looked at reducing the risks and consequences of accidents at sea. Other topics covered in the seminar were the expectations and limitations of medical care onboard ship, and the potential for telemedicine to connect ship and shore.
Much of this would already be familiar to seafarers, but is not necessarily known by the approved doctors, so as always, the seminar was a valuable opportunity to bring together the worlds of medicine and maritime – all in the interests of keeping seafarers safe, well and working.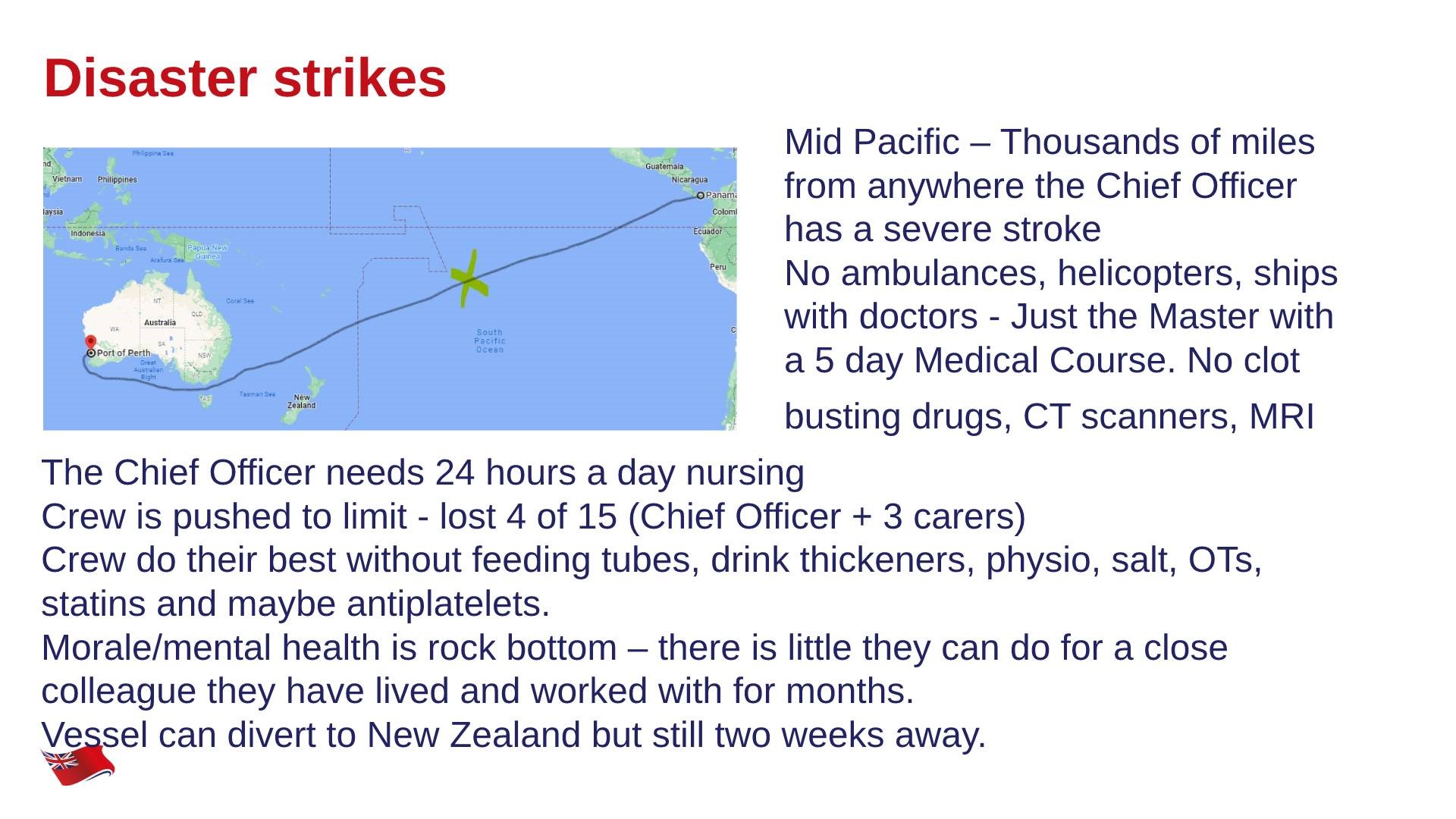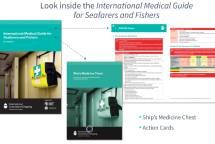 International Medical Guide for Seafarers and Fishers
One of the last consultancy jobs that Dr Sue Stannard carried out before joining the MCA was taking the technical lead on a new publication: the International Medical Guide for Seafarers and Fishers.
Developed and published by the International Chamber of Shipping (ICS), the work seeks to emulate national publications such as the UK's Ship Captain's Medical Guide but take the concept worldwide.
The guide was launched in February 2023 in a presentation to the IMO Subcommittee on the Human Element, Training and Watchkeeping – gaining interest from delegates from many different countries, especially those who do not have a national shipboard health guide.
Dr Stannard was part of an international team of contributors drawn from the ICS, the International Transport Workers' Federation, the International Maritime Health Association, the International Maritime Organization and the International Labour Organization.
The team drew on good practice in national shipboard health guides and sought to update the information in the World Health Organization's 2007 International Medical Guide for Ships.
The new ICS publication seeks to offer 'comprehensive guidance on the most common injuries, illnesses and health issues experienced onboard ships and fishing vessels.' This now includes mental health issues, which were not considered so much in the past.
The International Medical Guide for Seafarers and Fishers is available to pre-order for £225 at publications.ics-shipping.org