Europe has three emerging hotbeds of green innovation: Paris, Stockholm and London. 
Climate tech startups in those three cities raised over €1bn in 2022, and each is home to at least one green unicorn. European climate tech startups raised a record $16bn in 2022, up from $14.5bn in 2021. That 10% increase sits in stark contrast to the 24% dip in funding seen across the wider European tech sector last year.  
Although the UK's climate tech startups brought in the most funding overall (€3bn), the French and Swedish capitals pipped London in the city-specific figures. 
Climate companies often have a large infrastructure footprint, unlike many tech companies, meaning several small towns and villages around the continent — where there's more land available — score highly on climate funding (we're looking at you, Sveta Nedelja).
Here are the top 10 places in Europe for climate tech funding last year
1. Paris. The French capital brought in €2.2bn in 2022, thanks in large part to a $335m Series D round for used electronics marketplace Back Market, and a $500m round for sustainability ratings agency EcoVadis. 
2. Stockholm. Sweden's capital secured €1.8bn in climate funding last year. The biggest round went to gigafactory startup Northvolt (a $1.1bn convertible note in July 2022). 
3. London. The British capital brought in €1.6bn in 2022. The biggest round went to next-generation nuclear reactor startup Newcleo, which raised €300m. Octopus Energy, a green energy provide, also raised $225m. 
4. Zurich. Switzerland's largest city secured €901m in 2022 — the vast majority of which went to Climeworks, the world's best-funded carbon capture startup. It secured a mammoth $650m round in April last year. Zurich also has a strong pipeline of earlier stage companies, lots of which are based at its ETH university.
5. Sveta Nedelja. Not a city you'd expect to see coming in above Berlin: Sveta Nedelja, an unassuming town near Zagreb in Croatia, saw €620m in funding last year. It's entirely down to one company: EV maker Rimac Automobili, which raised two rounds in 2022.
6. Berlin. The German capital secured €407m last year, across 53 deals. Berlin's largest climate rounds went to solar panel provider Zolar and second hand marketplace Grover, which each raised €100m (Grover also raised a significant chunk of debt financing).
7. Bruchsal. The German city, located in the south of the country and with a population of 44k, brought in €320m in 2022. Like Sveta Nedalja, it was entirely down to one company: flying taxi startup Volocopter, which raised two rounds last year.
8. Sigtuna. Located just north of Stockholm, the town of Sigtuna brought in €293m. Sigtuna is home to EV truck maker Volta Trucks, which raised $260m, and then another $62m last year.  
9. Iver. In ninth place is Iver, a village in Buckinghamshire in the UK which brought in €240m. Gridserve, a startup working on EV charging and solar power infrastructure, raised all of Iver's yearly total in a single round. Iver's got a population of just over 11k — making it the smallest place to make it onto the top 10.
10. Hamburg. Germany's second largest city raised €278m in 2022, across 14 rounds. The largest of those went to 1Komma5, which provides residential solar panels.
How Paris does it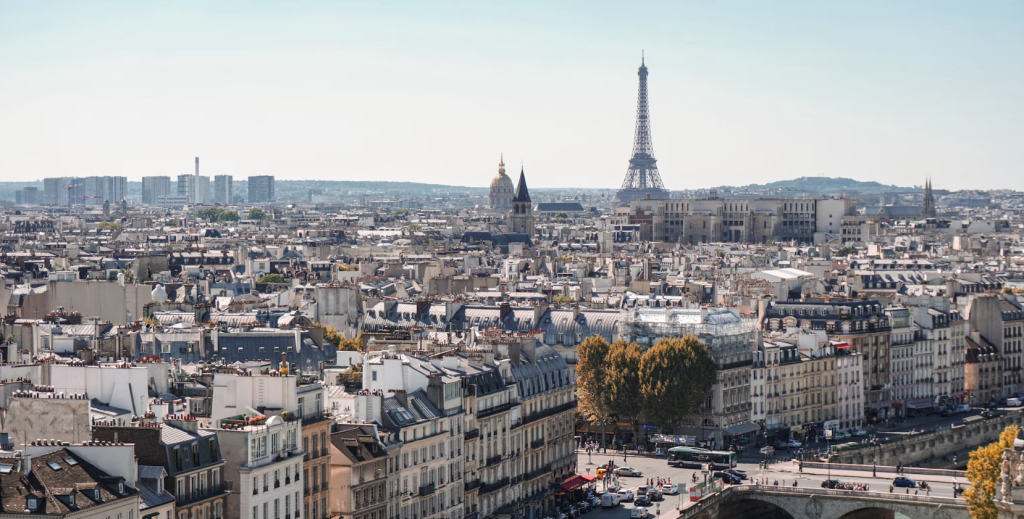 Paris's crown is, in large part, down to the fact that climate funding in France is more centralised than in other European countries. The capital accounted for 81% of the country's funding.
Countries like the UK and Germany are less centralised. London brought in just over 50% of the UK's total; while places like Manchester, Oxford and Cambridge saw a portion of the country's funding. Germany is even more decentralised — Berlin accounted for just 23% of the country's total. 
If we go by deal count, London comes in top with 107 deals in 2022, followed by Berlin with 53 and Paris with 46. 
And if we go by funding per capita, it's Croatia's Sveta Nedelja which clinches the crown — an accolade we expect to appear on its Wikipedia page any day now.
Freya Pratty is a senior reporter at Sifted. She tweets from @FPratty and writes our climate tech newsletter — you can sign up here.