Posted on: March 3, 2023, 12:10h. 
Last updated on: March 3, 2023, 01:08h.
Caesars Entertainment this week released Harrah's Columbus Racing & Casino renderings, which will become the casino company's first destination in the Cornhusker State.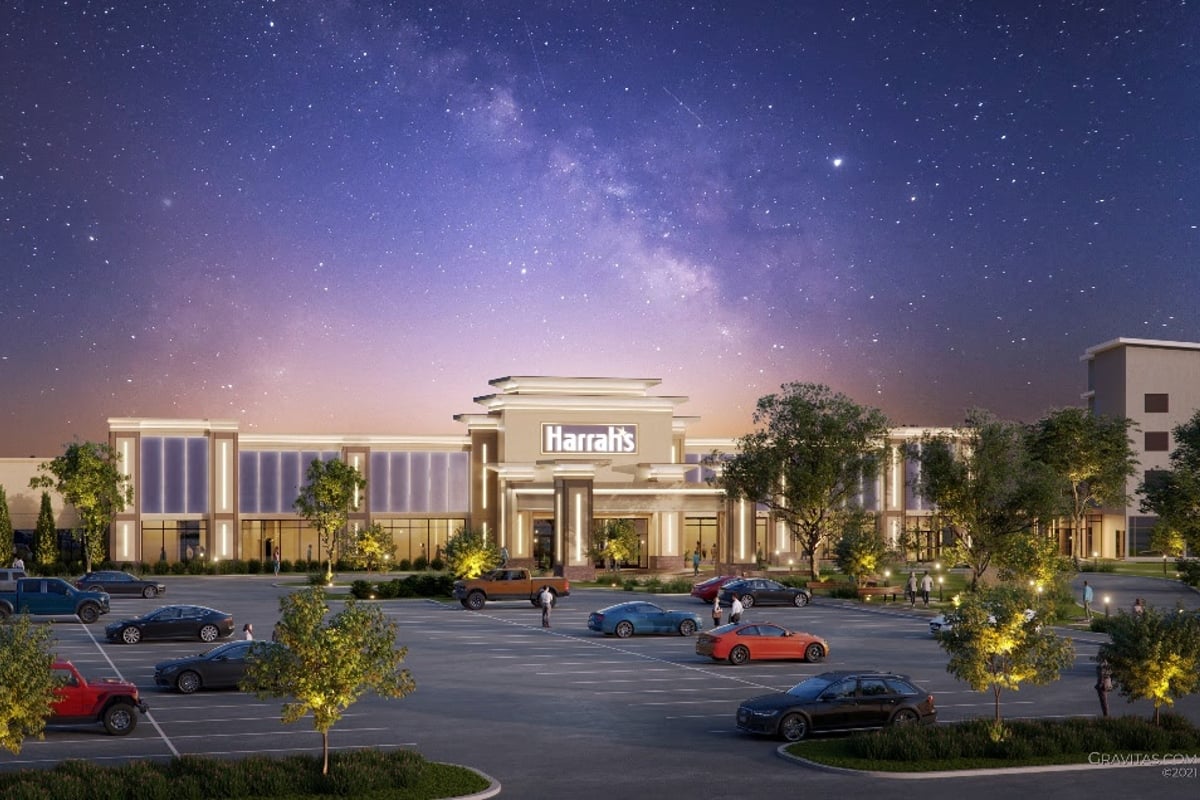 Nebraskans amended their state constitution during the 2020 November election. The ballot referendum authorized the state's horse racetrack facilities to become Las Vegas-style commercial casinos with slot machines, table games, and sports betting.
One such qualifying track was Agricultural Park, owned and operated by Columbus Exposition & Racing, Inc. Live racing will be held at the track commonly called "Ag Park," from September 30 through October 29, 2023.
Columbus Exposition & Racing partnered with one of the world's most recognizable gaming brands in Caesars' Harrah's. The company plans to open a temporary gaming space inside Ag Park this spring. The provisional casino will offer about 200 slot machines in addition to the simulcast offering.
While the temporary casino operates, Caesars plans to invest $75 million to build a new horse racetrack and permanent casino. The project will be located at the former Wishbones/Columbus Events Center along Howard Blvd., northwest of downtown.
Harrah's Nebraska Details
Caesars Entertainment brass hosted a project unveiling yesterday at the Elks Country Club. Harrah's Columbus, NE Racing & Casino, as the development is officially called, will feature a 28,000-square-foot casino and sportsbook with over 500 slots, 14 table games, and a Caesars Sportsbook.
The property will be accommodated by a brewpub and a restaurant called Wishbones, the latter being a nod to the former hometown events center that shuttered in 2021.
Marriott has announced plans to construct a Fairfield Inn and Townplace Suites adjacent to Harrah's Columbus. The hotels will be connected to the casino for easy access for overnight guests.
We're pleased to bring a brand-new destination to the great state of Nebraska," said Todd Connelly, regional president at Caesars Entertainment. "This is a huge milestone for the company, and we've been working hard to bring it to life."
As for the racetrack, which is required for Harrah's Columbus to receive a state gaming license, Caesars officials say the track will measure one mile in length. That will make Harrah's Columbus home to the longest thoroughbred racetrack in Nebraska.
"Horse Racing has been ingrained in the history of Columbus for decades. We're thrilled to contribute to that history and bring an all-new, one-mile racetrack for the community to enjoy," said Joe Morris, SVP of racing at Caesars Entertainment.
Early 2024 Opening
Harrah's Columbus Racing & Casino plans to welcome its first guests sometime before June 2024.
Caesars says players who visit the temporary casino at Ag Park will begin amassing Caesars Rewards credits that can be applied toward future visits at the permanent casino. Caesars' loyalty program is one of the largest in the US casino industry, as the company has more than 50 properties in North America.
Along with Harrah's, four other casinos in Nebraska are in the works in Lincoln, Omaha, Grand Island, and Hastings.